Check out Annabeth Albert's latest release in her Out of Uniform series, Wheels Up. Keep on scrolling for excerpts, review, and to
enter in her giveaway

.
"Sexy, sweet and heartfelt, Annabeth Albert's Out of Uniform series is a fresh take on Navy SEALs that will delight and entertain romance readers."
–Layla Reyne, author of the Agents Irish and Whisky series.  
Title: Wheels Up      

Series: Out of Uniform  #4
Publisher: Carina Press
Release Date (Print & Ebook): November 6th, 2017
Subgenre: M/M Contemporary Military Romance
Links: Amazon | Apple | B&N | Kobo
Book Blurb:
Their love is forbidden, but their hearts aren't listening to rules and regulations…
Lieutenant Dustin Strauss is a reformed man. No longer a twentysomething hell-raiser, he's his SEAL team's new XO—and a man with a secret. Or seven. He's kept his bisexual identity under wraps for years, along with his kinky side and a fondness for the military-themed semi-anonymous hookup website Joe4Joe. His latest chat buddy is more than a sexy online distraction—they're taking their very not-safe-for-work relationship into real time.
Petty Officer Wes Lowe has a smart mouth, a take-charge attitude and an uncanny ability for making things go boom. The life of an enlisted man isn't always enough to satisfy him, but one wild, no-questions-asked weekend with his online love comes close. When a transfer order comes in, Wes feels ready and centered. He'll make a good impression on his new SEAL team and keep his growing feelings for Dustin on the down low.
But as they log more time online and some very real emotions surface, Dustin and Wes struggle to pretend they're just a harmless fling. And when his commander introduces Dustin to his team's newest member, they're in for the shock of a lifetime…and a crushing disappointment: their difference in ranks means even a friendship without sexual contact could end their navy careers for good. 
With their hearts on the line, Dustin and Wes may not survive their next mission, let alone find a way toward a future together.
Short excerpt #1: Dustin wasn't nervous. Just because Wes had put it out there that they could go back to his room didn't mean they had to. Didn't mean his pulse had to rev like a personnel carrier, all loud and roaring in his ears. Didn't mean his fingers had to suddenly have nothing better to do than shred napkins. And it definitely didn't mean he needed to keep up the idiotic rambling. Damn it, Strauss, remember who and what you are.
Excerpt #1:
"So?" Wes prompted after she'd left again. "You don't want me to hook you up with someone, even hypothetically, but what would you like tonight? Burger and watch the game? Or…"
"Or?" Dustin sounded more curious than off-put, which was good.
"Or…and I'm just throwing this out there…I've got a hotel room close to here. We could go hang there after we eat. Just talk. And stuff."
"Define stuff." Dustin fiddled with his paper napkin, but he hadn't said no. And he was cautious, which was a good thing, smart. Another trait all the marines Wes knew had—they were wary, always ready for the next threat.
"Talk. Like how we usually do on Saturday nights." Wes raised his eyebrows and nodded, telegraphing that he knew perfectly well how those nights usually ended, both of them drenched in sweat and spunk, yawning goodnight into the phone.
Dustin hissed in a breath. "And you'd be good with that? Just our usual?"
"Oh trust me—" taking a risk, Wes leaned across the table, putting his lips against Dustin's ear "—there's nothing usual about what I want to do to you. And absolutely nothing boring about a live-action version of our regular game."
He sat back down in time to watch Dustin's eyes light up at the mention of game. Yeah, Wes knew how to get him going. And the equal measure of trepidation and anticipation in his eyes made Wes's pulse speed up. He wanted this, far more than he was willing to let on.
"I…" Dustin glanced around again. "I'm not…"
"Shh. You don't have to give me an answer yet. We can enjoy our food. And the game. Hopefully UVA loses spectacularly so I can gloat about that when I call home tomorrow, and my dad will be in a better mood."
"Okay." Dustin sighed, and Wes knew he wasn't imagining the relief on his features. Darn it. "How's your sister doing?"
Wes had told Dustin a little about Sam's heart condition on a night a few months back when he was feeling particularly down. Dustin remembering how close he was to Sam made warmth spread through his chest. "She's good. Always got to be on the lookout for infection though. Hopefully this year's cold and flu season isn't too rough. She made me a new playlist today. I'll forward you the link."
"More of that alternative-country?" Dustin made a face. They might share a taste in movies and TV, but in music they differed, almost comically so.
"Yup. Be glad you're not riding back with me." His insides gave a little twinge at the reminder that all he had with Dustin was this one night. And that's why he needs to say yes. If all they had was tonight, then Wes was going to make it one they both remembered for a long, long time.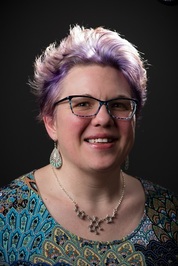 Author Bio:
Annabeth Albert grew up sneaking romance novels under the bed covers. Now, she devours all subgenres of romance out in the open—no flashlights required! When she's not adding to her keeper shelf, she's a multi-published Pacific Northwest romance writer.  The #OutOfUniform series joins her critically acclaimed and fan-favorite LGBTQ  romance #Gaymers, #PortlandHeat and #PerfectHarmony series.
To find out what she's working on next and other fun extras, check out her website: www.annabethalbert.com or connect with Annabeth on Twitter, Facebook, Instagram, and Spotify! Also, be sure to sign up for her newsletter for free ficlets, bonus reads, and contests. The fan group, Annabeth's Angels, on Facebook is also a great place for bonus content and exclusive contests.
Emotionally complex, sexy, and funny stories are her favorites both to read and to write. Annabeth loves finding happy endings for a variety of pairings and is a passionate gay rights supporter.  In between searching out dark heroes to redeem, she works a rewarding day job and wrangles two active children.
Connect with Annabeth: Twitter | Facebook | Facebook Group | Newsletter | Instagram | Website
Rafflecopter prize and code: $10 amazon gift card + any back catalog e-book by Annabeth Albert
Direct Link: http://www.rafflecopter.com/rafl/display/88d45f0333/
Review by Lost in a Book
4 Stars
*Whew* This went from 0 to 60 within a chapter or two. There was chemistry, heat and a delicious helping of kink. I was rubbing my hands giddily together while channeling my inner Matthew McConaughey.
Dustin and Wes are both SEALs stationed on different U.S. Coasts. They meet on a military inspired online chat app and develop a friendship that includes cyber sex benefits. Both men get to know each other but leave out the specific details of their branch of service, rank and city. Dustin has some events on the East coast and the two finally decide to meet while he is there. A very hesitant meeting turns into a night of friendship and some scorching live action.
Then shit got "real." *sad face*
Wes gets transferred to the West coast and gets to meet his new SEAL team. And his commanding officer, Dustin.
Dustin and Wes are now surrounded in red tape, fraternization rules, rank rules, etc., which puts a halt to their friendship and any communication other than duty information.
But, the pull is too strong and we get to follow Dustin and Wes as they fight their connection and then slowly give in message by message, look by look and then touch by touch. They were like two parts of a whole that needed to be together. There was a calming effect when they were together and their connection was evident throughout. Their chemistry was drool worthy. Big-beefy-commanding-officer, Dustin completely submitting to Wes. *slow blink* Dustin was in charge in all areas except the bedroom where he was finally able to let go.
And let go he did. Yowza!! Dustin craved submission, pain play, restraint, a little pet play, begging, nipple play, biting and orgasm denial. Wes got off on it all and more which soothes Dustin's insecurities regarding his kink preferences. Even the kink through cyber was hot. It's amazing that orgasm denial and pain play was well executed through a WiFi connection. It truly portrayed Dustin's complete submission to Wes.
Outside of the kink and eventual stolen moments of friendship, the story was just alright. There wasn't much going on which was sort of disappointing after how much I loved On Point. It started off fanfreakingtastic and once they were on the same SEAL team, it dragged a bit. It was a hard fought HEA and if you've been a fan of the series or a fan of hot military men, I'd recommend it.
This was an ARC so I was more lenient about mistakes. I do hope the POV transitions and time jumps are clear before release. There wasn't a distinction made so the POVs and time lapses changed from sentence to sentence.
Copy provided by Netgalley in exchange for an honest review.