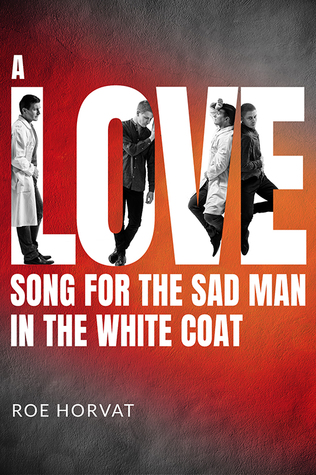 Reviewed for @BMBR
4.5 Stars
EEeEeeppp!!!
It took DAYS for me to suck it up and read this. I was in this weird place of come on, it's Roe Horvat and oh my, this is gonna hurt. I was weak and finally grabbed my blankey and prepared for the big dose of angst I knew was coming. I survived. Barely.
In all seriousness, I have a thing for angst. I may get all whiney before and need fluff after but I just love when it hurts so good. Just like this one. A Love Song for the Sad Man in the White Coat was like having the wind knocked out of you and not catching your breath for a while. Whatevs, I'm all bring on the pain, angst, and the melancholy it was riddled with. Luckily, mingled in with all the heaviness is fire, passion, connection, and love.
Just a quick note before we dig in… we won't be digging in too deeply. I liked the discovery in this book and having to really feel for Simon and Matěj as they navigate their pain so I won't be giving too much away.
The book starts off in 2012 and goes back and forth to various times throughout a five year period that ends in 2017. Matěj is in his last semester of medical school in Prague. Right away, we get his snarky yet brilliant personality as he tries to get a reaction out of the unflappable Dr. Simon Mráz AKA The Cruel Doctor Frost. Matěj is a predator with sights locked on his prey and ready to pounce. Simon is a structured yet mercurial doctor that's an expert at controlling the emotion he conveys to others. His self control and willpower is on point until he loses himself, his sanity and succumbs to the relentless hauntings of memories.
We get windows into Simon and Matěj's dysfunctional lives and see the sweet relief for each man when they come together as secret lovers and friends. Matěj soothed Simon's need for control, order and the habit of being locked in his head while Simon became Matěj's safe haven. There was just so much want and need between them. They were on fire together and all the noise in their lives went away.
This books drags you through a myriad of emotions as a reader while *seeing* the utter passion, desolation, and then hope the characters go though. There's so much pain and melancholy that it becomes a tangible thing. I loved the secondary characters and the energy they brought to the story. My one niggle with this angsty AF read was the ending. Yeah, they figured shit out and get their HFN. Maybe it's the tiny cynic in me but I needed a lengthier resolution where explanations were provided. I believed their connection, love, passion, etc., but was the heartbreak necessary? I think so but I'm not sure. *shrug*
I love professor/student romances. I was enthralled with the story, the feels, the desperation and helplessness. I'm glad I sucked it up even though I'm diving into fluff land for a bit. Definitely recommended.
Trigger warning- Suicide and abuse take place off page with minor character but the details of the suicide are described. 
https://boymeetsboyreviews.blogspot.com
Copy provided for honest review.