Robby Riverton: Mail Order Bride by Eli Easton: Review by Lost in a Book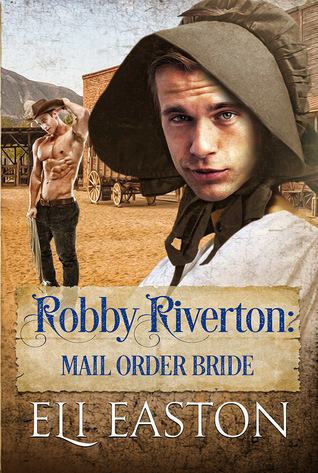 Synopsis: 
Being a fugitive in the old west shouldn't be this much fun.
The year is 1860. Robby Riverton is a rising star on the New York stage. But he witnesses a murder by a famous crime boss and is forced to go on the run–all the way to Santa Fe. When he still hasn't ditched his pursuers, he disguises himself as a mail order bride he meets on the wagon train. Caught between gangsters that want to kill him, and the crazy, uncouth family of his "intended", Robby's only ally is a lazy sheriff who sees exactly who Robby is — and can't resist him.
Trace Crabtree took the job as sheriff of Flat Bottom because there was never a thing going on. And then Robby Riverton showed up. Disguised as a woman. And betrothed to Trace's brother. If that wasn't complication enough, Trace had to find the man as appealing as blueberry pie. He urges Robby to stay undercover until the danger has passed. But a few weeks of having Robby-Rowena at the ranch, and the Crabtree family will never be the same again.
Damn, what a kerfuffle. If only Trace can get rid of the fugitive while hanging on to his own stupid heart.
            
4.25 Stars
Wow!! This book took me by surprise. I mean, it's Easton so I knew I would enjoy it, but that cheeky cover (which I love) and blurb had me expecting something completely different than the depth that's provided in Robby Riverton: Mail Order Bride. This story is packed with feels, has extremely endearing characters, with loads of sweetness, sassiness, love, and humor. While much of the plot is known, I'm not going in-depth because there are things that deserve self-discovery as you read and fall in love with Robby, Trace, and the rest of the Crabtree clan.
Robby is an actor in New York that has the unfortunate luck of witnessing a murder at the hands of a crime boss. He hops on the earliest wagon caravan heading to Santa Fe in hopes of ditching killers that want to take care of the last witness. Robby's bad luck continues and the men follow the caravan all the way to Santa Fe, New Mexico. He has just enough time to throw on a dress, bonnet, gloves, and acquire the sweet accent of new and improved, Miss Rowena Fairchild.
Trace Crabtree is the sheriff of Flat Bottom and makes his monthly trip to Santa Fe for some supplies and a quick tumble with the local barber to meet his physical needs. Poor Trace isn't able to get off  because he has to save Rowena from getting manhandled by the gangsters. One thing leads to another and Rowena is on her way to meet her betrothed and his family all while Trace is aware that she is actually a he and supposed to marry his brother.
Very soon after Rowena meets the Crabtree family, Trace shows up and wants answers on why Robby is hiding. They decide to keep Rowena's cover until the danger passes. Rowena's not a shrinking violet and digs into the family dynamics immediately. She has perfected the art of challenging the status quo without fully ruffling feathers. The family bring her *mostly* into the fold right away and come to depend on her. It's amazing how I started off thinking one way about the family and slowly but surely falling for the gruff Crabtrees and the way Pa-Pa is handled with care while being pushed to change. I fell in love with each member of the family and the insane feels that came with them.
Speaking of love, the romance between Trace and Robby is swoon-worthy. They have heat but it isn't just about sex. There's a connection forged through stolen moments. They talk, laugh, and enjoy just being together. Trace and Robby are complete opposites that complement each other perfectly with Robby's fierce personality to Trace's gentle badassness. It's always refreshing when both MCs are able stand strong separately yet become indestructible together.
This is set out in the Wild West but it didn't overshadow the story. There is crime, shootouts, sheriffs, etc., yet the setting enhanced a story being told about love, family and acceptance. The start was a tad bit slow for me but picked up around 25ish%. Trace and Robby get their HEA with a glorious epilogue. *dreamy sigh* I really enjoyed this romance and want to be adopted into the Crabtree family. Definitely recommended.
Copy provided for honest review.