Riven by Roan Parrish: Review by Lost in a Book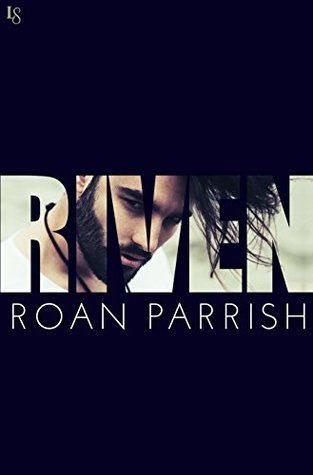 Synopsis: Theo Decker might be the lead singer of Riven, but he hates being a rock star. The paparazzi, the endless tours, being recognized everywhere he goes—it all makes him squirm. The only thing he doesn't hate is the music. Feeling an audience's energy as they lose themselves in Riven's music is a rush unlike anything else . . . until he meets Caleb Blake Whitman. Caleb is rough and damaged, yet his fingers on his guitar are pure poetry. And his hands on Theo? They're all he can think about. But Caleb's no groupie—and one night with him won't be enough.
Just when Caleb is accepting his new life as a loner, Theo Decker slinks into it and turns his world upside-down. Theo's sexy and brilliant and addictively vulnerable, and all Caleb wants is another hit. And another. That's how he knows Theo's trouble. Caleb can't even handle performing these days. How the hell is he going to survive an affair with a tabloid superstar? But after Caleb sees the man behind the rock star, he begins to wonder if Theo might be his chance at a future he thought he'd lost forever.
            
4.25 Stars
*Stage Whispers*
This was my first time reading Roan Parrish.
Initially the cover caught my attention but my interest transformed into enjoyment with Roan's unique story telling about a terrified addict afraid to fully live and a reluctantly famous rock star that just wants to do what he loves- making music.
Theo Decker is lead singer and song writer for the band, Riven. He's lonely without ever being alone while craving acceptance from those around him. To have a tether in his world that saw him and not his fame. He's a mercurial introvert that struggles with everything that comes with being in a band and being famous. He has insecurities stemming from his childhood that creep up and desperately wants to be wanted. To be enough. For Theo, music makes his world go round and gives him the ability to lose himself.


"I could lose myself in a way I'd never known, and by losing myself I found pieces I could live with."
While walking on a quiet night, the sound of music brought Theo to a hole in the wall bar to find the creator of such a beautifully broken song.
Lost in his music,  Caleb Whitman hunched over his guitar while shutting the world out. He's a recovering addict after his latest stint in rehab. Caleb has cut all ties to his former life as a musician and seeks solace in the country. He's terrified to trust his decisions, instincts, and actions in fear of heading back down the same drug filled road he came from. Then he meets Theo.
Caleb and Theo initially bond over their passion for music. After meeting in the bar, they spend the night talking about music and then getting lost in each other until the morning light… until Theo wakes up alone.
Their connection is instant and tangible on that first night which terrified Caleb and left them both craving the other for weeks after. Luckily, their story doesn't end there. We are treated to an angsty ride as Caleb tries to piece back together a clean life that's worth living and not merely existing. "This was no natural circle of life, but a desperate resurrection. I had to put one self to death before it could kill the one I hoped to create." He has to navigate triggers and landmines surrounding each decision he makes which causes heavy angst and relational rollercoasters for him and Theo.
Theo and Caleb have a lot of turmoil to wade through with potential landmines at every corner. I love them, their connection, their passion about music and each other, their struggles and the authentic way they are portrayed and fleshed out. This is an angsty read that lacks sugar coating but is woven together with a thread of hope for second chances, redemption, love, and their HEA.
They have some smokin' hot chemistry. There was an element of slow burn after their initial night but once the seal was broken, DAYUMMMM. Delicious stuff was happening on those pages… until I started skimming the sex scenes. *Gasp again* About 2/3 of the way through, things started to drag for me a bit and I was over-sexed. That feeling didn't last too long and once my Kindle cooled down, I was able to reconnect with Theo and Caleb.
I absolutely adore the secondary characters of Huey and Rhys. They have major love for Caleb and provide a pillar of strength when he can't hold himself up any longer. I was a tad confused about Rhys and his husband Matt. IMO, they were written as if I should have already known them from a previous book but I couldn't find them in her (author) backlog. *If you know which book they hail from (if they are previous characters), please let me know and I'll read that one, too.*
Warning: There should be a trigger warning for past drug/alcohol use as well as the struggles Caleb faces each day to stay clean. There are also separation periods in this book which I know can be a deal breaker for some. They were well written and helped add authenticity to the MC circumstances but I felt it's worth noting.
I enjoyed and appreciated this unique take on rock star romance. Instead of the typical antics rock stars get into, this book highlights men where music forms the essence of who they are, men that are far from perfect, and men that struggle to become better versions of themselves while loving each other deeply. Definitely recommended and will not be my last read from this author.
"pieces were shuffling into place: in my head, in my gut, in my chest—all of it forming me into a different man. A man who had been ruined and remade so many times he should have been dust, but instead was luminescence."
Copy provided from publisher via NetGalley for honest review.