The Lover (It's Just Us Here #4) by Christopher X. Sullivan: Review by Lost in a Book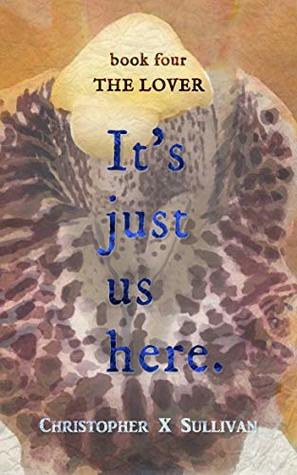 Blurb:
An asexual man falls in love with a male model… and is introduced to the fine art of getting down.
Chris and Mark are officially a couple… though Chris isn't out to his parents. Mark, on the other hand, is trying to mend his broken relationships with his father and grandfather.
Their new romance is a source of stability for Mark and chaos for Chris. Together they navigate the many pitfalls of their newly sexual intimacy. Meanwhile, Chris can't keep his family out of the loop forever because his mother is an especially gifted amateur sleuth.
Also, it doesn't help that Mark wants to show off their romance like a first grader who brought a puppy to show-and-tell.
[The Lover is Book Four in a ten book series. You can read this as the beginning of a four book "Lovers and Second Chances" story arc. You should probably read the first three books to understand the fullness of the characters, but this isn't strictly necessary. Book One, Book Four and Book Eight all serve as 'jumping in' points for the series.
It's Just Us Here: The Lover is a 120,000 word journey of two men making a life together, staking out personal boundaries and gently adding sexual exploration to their intense emotional relationship.]
            
5 Stars
Well, Well, Well… This book has a *very* different feel from the first three books in the series. I mean, yowza!! Mark uncovers some of Chris' kink. *gasp* So, if you're someone who doesn't want sex in their books, I'd probably skip this and (probably the next one too) rejoin with installment six.
Another note: This could technically be a standalone. However, as I was reading it, I tried to pretend I had never read the other books (which it had been 8 months since I have) and it had me pausing. I could see a new reader entering here and getting annoyed with some of Chris' quirks or Mark's boundary pushing without having the prior knowledge. I also don't believe a new-to-series reader would be able to fully appreciate the gravity of certain situations, how far they have come (obviously), and the implications of certain situations. I would highly recommend reading the first three books prior to this one.
Chris and Mark find their stride in this book, sexually speaking. As I mentioned, Chris has some kink preferences… who knew? It's very sweet but also fascinating to read how they pave their own road in regards to sex/intimacy with Chris being asexual and Mark, highly sexual. There are also a bunch of moments that had me cackling with cocky Mark or Chris trying to mentally get through certain… things.
Well…" Mark sized me up. "I don't count you in my averages. I thought I could get you in three days… you were so receptive. Then a week went by… then another week. You fucking blew all my averages."
"I've never been more proud of myself than I am in this moment."
or
"This isn't sex. This is just like Survivor. I'm making an alliance. My ass is making an alliance with Mark's cock. That's all this is. This is a game."
The relationship web widens in The Lover as Chris meets more of Mark's family and friends… but, not the other way around. Chris is still holding back on bringing his sexuality out in the open with his family (except his cousin).
Mark had me swooning throughout (when I wasn't giggling or pace palming). The gentle way he just *gets* Chris, the balancing and pushing, the cuddle time and being able to sense when Chris needs a time out… *swoon*
Rating these books is always interesting. Each time I feel like I'm judging someone's life story… which in a way I am. Another thing I realized while reading this real *story* and the sex scenes is that my main emotion was sympathy. I know that's weird to say because I like a side of heat with my romances. However, after each encounter I was really feeling for Chris' struggles and Mark's patience (and pushing) as they tried to find a balance that worked for them.
I'm excited to continue on in this series and see how everything plays out. Chris is a hell of a writer and the story being woven keeps me coming back for more. Definitely recommended.
P.S. There's a trigger warning for mentions of sexual assault on one of the secondary "characters."
Copy provided for honest review.