Made For You (Love & Family #2) by Anyta Sunday: Review by Lost in a Book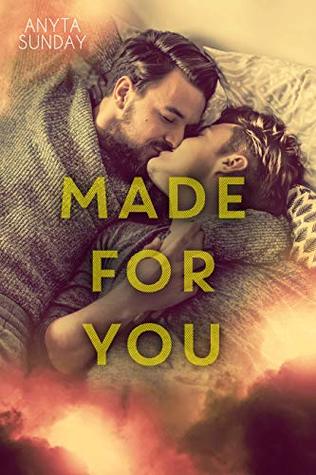 Blurb:
Ben wants to find a new home.
Twenty-four-year-old Ben McCormick is the primary caregiver for his brother Milo after their parents' death. A year into the job, he's totally got the hang of it. Mostly. Sort of. Not at all?
Defeated and thoroughly chastised for his lack in parenting skills at teacher-parent night, Ben slumps away with the resolve to finally get his life sorted: be a better role model, and sell their parents' house for a fresh start.
But first, he needs to spruce up his house to hit the market. He's no DIY king, but Milo's hot-as-hell woodwork teacher is…
Jack wants an old home to fix.
Thirty-nine-year-old Jack Pecker is waiting for the home of his dreams to come on the market in the summer. What better way to wait the interim months than working on a small renovation gig?
Only trouble is, the gig is for the McCormick brothers. And working in close quarters to red-haired Ben McCormick won't be easy. Not with the attraction that simmers between them. Attraction Ben makes no effort to hide.
But Jack's professional. Dating a parent is highly discouraged at Kresley Intermediate, and he'd never cross the lines…
Ben and Jack. Two guys searching for a home – 
– a home that might just be where their hearts lead them.
~ – ~ – ~
Set in New Zealand, Made For You (Love & Family #2) is an MM gay romance featuring two guys at very different places in their lives – but both finding out they are looking for the same thing.
Can be read as a standalone.
Tropes: friends-to-lovers, slow burn, age gap, found family
Genre: New Adult, light-hearted contemporary gay romance
            
5 Stars
You Guys!!!!! I know I've made no secret about my love for Anyta Sunday books (still have a few more to go in her back log until I've read them all) but OMG with stories like this, how can I not? Made For You is everything I look for in romance (M/F or M/M) with cheeky characters, connection, heartfelt moments, angst, feelable feels (don't just tell me they like/love, I want to experience them for myself), slow burn, and this has the added bonus of an age gap. Hell Yes! It even has a kid in it (which I usually stay away from) but Milo added so much to the story that I was smiling, laughing, and crying right along with him.
Ben is the caretaker for his younger brother, Milo after the death of their parents. He pretty much puts his life on hold to ensure Milo gets the care he needs. Poor Ben isn't used to parenting and while he tries his best, they're still majorly hot messes. Ben hasn't mastered how to get Milo to do anything and it's impacting his school performance. On a parent-teacher night, Ben slips into the sights of Jack, AKA Mr. Woodpecker, AKA Milo's wood working teacher. Literally.
"Milo's teacher. Milo's gay teacher. Milo's ruggedly hot, gay teacher. I pre-emptively confess my sins. I'm taking the image of his steady gaze, curved lips, and work-toughened hands to bed tonight."
Jack is spending his days teaching while completing home renovations at night and on the weekends. He's saving to buy and renovate his ultimate dream house and just has to wait it out. Jack decides to take a job renovating Ben and Milo's house which will give him a place to live until his house becomes available.
Ben and Jack together is absolute perfection. Ben is soooooooooo cheeky with quick wit and a larger than life personality. He uses humor and sarcasm to cover the shit storm that's currently his life. He has immense love for Milo and it's evident in all of their interactions. These brothers love each other and my face leaked a little during their happy times and/or their times of incredible sadness.
Jack and Ben's attraction is pretty instant and Ben makes no apologies about his blatant interest. He's flirty, suggestive, and can turn anything into innuendo. Jack tries to put a stop to it (even though he feels it too)… and fails. Made For You heats up much faster than Anyta's other books with Ben's lack of filter but it's Anyta, so it still qualifies as an epic slow burn. With Jack and Ben not denying their attraction, we are treated to these little *fully* charged moments- tasty morsels when we just want to devour the entire fucking cake. Definitely worked on building my appetite for these two to get together.
Let me tell ya, I wasn't dying for a fuck fest. I was dying for a kiss, a hand hold, a hug, anything and everything. Their relationship journey happened organically and holy hell, I felt every step they took towards something so much bigger. The Ben is the best moments were so swoon worthy and endearing that I felt like I was wrapped up in a cozy blanket on a cold day. This wasn't all angst and UST, there are many LOL moments. All three of these guys together were so freaking funny that I was highly entertained.
If you can't tell by now, I loved this story HARD. Please Please Anyta, can you make this an audio with a kick ass narrator? I would revisit it on the regular. 100% recommended.
"It's a kiss of seconds, but they are the best kissing seconds of my life."
Copy provided for honest review.