Red, White & Royal Blue by Casey McQuiston: Review by Lost in a Book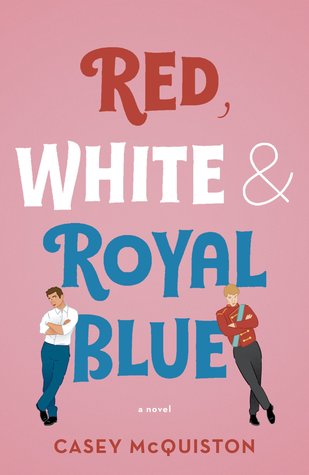 Blurb:
A big-hearted romantic comedy in which First Son Alex falls in love with Prince Henry of Wales after an incident of international proportions forces them to pretend to be best friends…
First Son Alex Claremont-Diaz is the closest thing to a prince this side of the Atlantic. With his intrepid sister and the Veep's genius granddaughter, they're the White House Trio, a beautiful millennial marketing strategy for his mother, President Ellen Claremont. International socialite duties do have downsides—namely, when photos of a confrontation with his longtime nemesis Prince Henry at a royal wedding leak to the tabloids and threaten American/British relations.
The plan for damage control: staging a fake friendship between the First Son and the Prince. Alex is busy enough handling his mother's bloodthirsty opponents and his own political ambitions without an uptight royal slowing him down. But beneath Henry's Prince Charming veneer, there's a soft-hearted eccentric with a dry sense of humor and more than one ghost haunting him.
As President Claremont kicks off her reelection bid, Alex finds himself hurtling into a secret relationship with Henry that could derail the campaign and upend two nations. And Henry throws everything into question for Alex, an impulsive, charming guy who thought he knew everything: What is worth the sacrifice? How do you do all the good you can do? And, most importantly, how will history remember you?
            
4.5 Stars
Politics. *dreadful sigh* Books that revolve around politics are usually a hard limit, hell no for me. The day to day politics in RL are usually nauseating enough that I don't want to read about them in my escape time. Red, White & Royal Blue drew me in with the cute cover/synopsis and I'm glad it did. For much of the book it was like this fantastical political dream world where the last two years didn't actually happen and I was *totally* here for it. For the most part. This book had me smiling, laughing, sad, swooning, and full of hope from one page to the next.
First Son Alex Claremont-Diaz is all about politics. He lives and breathes them and dreams of one day becoming a politician that does the right thing- like his mother, the President. Alex is also a snarky smart ass and sometimes his antics get the best of him. Errrrr, or cause potential issues with diplomatic relations when he gets into it with uptight Prince Henry of Wales at a royal wedding. Now they have to pretend to be the best of friends as Alex grits his teeth and Henry puts on stoic front of impassiveness.
"So, you can hate the heir to the throne all you want, write mean poems about him in your diary, but the minute you see a camera, you act like the sun shines out of his dick, and you make it convincing."
There's more to both men than what meets the eye and as they continue on with this charade of friendship, walls start to crack. Alex and Henry gain so much understanding and common ground on what it's like to grow up in the public eye and be held to impossible standards- unable to be who they really are.
I love the journey for Alex and Henry. From nemesis to lovers, it's highly entertaining. Their friendship develops gradually over texts, emails and eventually face to face. The UST is thickkkkkk and the snark is highly entertaining. My first through when I found out they didn't like each other was "please tell me there's hate sex." There isn't. But, they have chemistry and witty banter in spades.
"I shall just have to make it the best orgasm of your life. What can I do to make it good for you? Talk about American tax reform during the act? Have you got talking points?" Alex looks up, and Henry is grinning at him. "I hate you."
Alex and Henry get together fairly quick so there's lots of intimate times but the sex scenes fade to black. You know what's going on during the smexy times but it's not explicit (which didn't bother me because their relationship is *so* much more than sex). The build up to the kissing though… 🔥🔥. We are able to *see* their walls crumble completely as the tone of their correspondences change.
I LOVE all of the secondary characters. Red, White & Royal Blue has a diverse cast with multiple LGBT+ representations and races. There's sassy wit, snarktastic humor, funny AF antics, and tons of pop culture references along the way.
So, remember how I was saying above that this is a refreshing take on politics and the bizarro world political fantasy land worked for me? It did. For a bit. However, it began to drag on the political parts around 50% and didn't let up. I began skimming some of the political parts but my enjoyment for everything else never waned.
I totally adored Alex and Henry along with their patchwork family. I really like the format with texts and emails being an important part of their love story. I even day dreamed what-ifs with the fantastic idea that the political climate in the U.S. could be different. Recommended.
Copy provided by NetGalley in exchange for an honest review.