Squared Away by Annabeth Albert: Review by Lost in a Book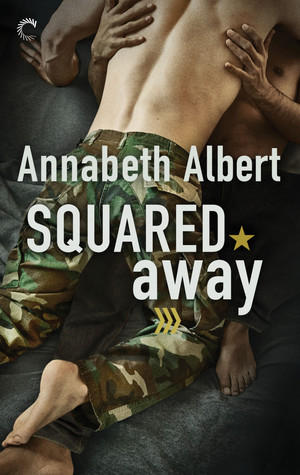 Synopsis: 
In the wake of tragedy, SEAL Mark Whitley rushed stateside to act as guardian to his sister's three young children. But a conflicting will could give custody to someone else—someone Mark remembers as a too young, too hot, wild party boy. Even after six years, Mark can't shake the memory of his close encounter with Isaiah James, or face up to what it says about his own sexuality.
Isaiah's totally over the crush that made him proposition Mark all those years ago. In fact, he's done with crushing on the wrong men altogether. For now, he's throwing himself into proving he's the best person to care for his cousin's kids. But there's no denying there's something sexy about a big, tough military man with a baby in his arms.
As the legal details get sorted out, their long-buried attraction resurfaces, leading to intimate evenings after the kids are tucked in. A forever future is within reach for all of them, if only Mark can find the courage he needs to trust Isaiah with his secrets—and his heart.
            
Review
3 Stars
Well, *sigh* this wasn't my favorite book in the series. I had a very "meh, this is an ok read," vibe going on throughout.  However, I'm still a fan of all things Navy and especially all things SEALs.
Too bad Isaiah wasn't a SEAL because this one could have been the inspiration. 🔥🔥
Did you get an eye full of the………. dog tags?
Sorry, where were we?
In Squared Away, we get to know the confident virgin, Isaiah. He's 18 and determined to lose his virginity to the hot AF Navy SEAL, Mark. While at a family wedding, Isaiah makes his intentions clear and Mark shoots him down.
Fast forward six years and the death of Isaiah's cousin along with Mark's sister pushes both men together again as they attempt to pick up the pieces and determine the best arrangements for the three children left without parents. Contradicting wills set off some heated disagreements on how to proceed. Mark has been ghosting Isaiah for the past six years and Isaiah has played nanny for those children many times throughout their lives.  Unfortunately, Mark can't get past his prior knowledge of Isaiah or take the time to process and become comfortable with his sexuality.
While I liked both men separately, they were never simpatico. I never had that feeling of them being on the same page. Mark's very insecure, has trust issues, and his inner monologue of people always letting him down became frustrating. I don't expect nor want everything tied up in a pretty bow but I would have appreciated them having some cohesiveness as they navigate their daily life and eventual relationship.
Isaiah is a very sexual person which is opposite of Mark's gray ace or demisexual identity. I did enjoy how patient and understanding Isaiah was as Mark finds his comfort with intimacy. I also appreciate the diversity Albert provided with an interracial couple and a varying spectrum of sexual comfort and identity.
The kids. They were the spotlight of the story and understandably the focus of their lives. There was authenticity to their growing pains as they learn that children don't come with an on/off switch. Especially as young as these little ones are. Isaiah and Mark learned that when life kicks you in the ass, sometimes you have to paste a smile on and give the performance of a lifetime so the little ones don't feel the stress and grief that creep up.
Editing point of contention which I believe I mentioned in the last release were the POV and time lapses. These aren't indicated and would randomly change in the middle of a page from one sentence to the next. Once again, I'm hoping this is sorted before the official release.
Isaiah is very relatable with his feisty personality and big heart. The men got their HEA even if it went from no I can't have a relationship to I must be with you always within a couple pages. *shrug*
I think this is the end of the road for me- but if you're a fan of the series, you'll probably be a fan of this one too.
Copy provided by NetGalley in exchange for an honest review.